Sports movies have been a mainstay of Hollywood throughout its history.
Cinema wouldn't be the same without Robert Redford's Natural hitting a light bursting home-run, Paul Newman's Hustler smirking as he chalks his cue, Raging Bull's operatic pugilism, or Rocky hurling himself up the steps of the Philadelphia Museum of Art.
There is one huge oversight when it comes to the success of the sports genre, though. The soccer movie. The beautiful game has never looked as alluring when it has been made for the big screen. Sure, Escape To Victory is an enjoyable romp, Bend It Like Beckham is undeniably feelgood, and Michael Sheen has never been better as Brian Clough in The Damned United.
But even in these films, the shots, passes, and tackles are too choreographed. Goalkeepers look as if they're moving out of the way of shots instead of saving them. The pace of the game is too languid. There's a complete absence of technique. You can never really tell where players are on the pitch, which itself often looks too small. It's also incredibly difficult for a director to shoot a prolonged sequence of play, while any edits or use of slow-motion immediately makes the game look unnatural. It's notable that soccer looks best on screen when the action is real: as in the recent Netflix David Beckham documentary or Zidane: A 21st Century Portrait.
Next Goal Wins, Taika Waititi's sports comedy biopic about the worst national team in the world's attempts to finally win a game, suffers from many of the traditional issues. But considering how inept the American Samoa players are meant to be, the shortcomings don't feel anywhere near as egregious. The poor critical response to Next Goal Wins, which has been described as a "shoddily made and strikingly unfunny attempt to tell an interesting story in an uninteresting way," proves that cinema is still on the hunt for a great soccer movie.
So what needs to change in order to right this cinematic wrong?
"You just can't script a film in the same way as a real soccer match," says Kyle Kusz, an associate professor of kinesiology at the University of Rhode Island. "Baseball and football are more static, they stop and start, and don't have the flow of soccer." This gives film-makers a chance to build up the tension of these isolated moments, as audiences wait to see if a quarterback can throw a touchdown, a batter can smash a baseball out of a stadium, or a boxer can knockout his opponent.
For Franklin Leonard, a film and television producer and the founder of The Black List, "conventional western, particularly American, storytelling tropes about a single hero doesn't suite the nature of [soccer], which is fundamentally communitarian. It's never just one person winning anything. It's a team sport."
Arguably the most comparable American sport to soccer is basketball, as the ball is constantly moving, there's coordinated teamwork, strategic passing, and instinctive shot-taking. Leonard believes that basketball being played in a "controlled indoor environment" and consisting of "short bursts of action" means film-makers have been able to make the likes of Hustle, Swagger, and Winning Time look more authentic on screen.
These projects were also given large budgets by Netflix, Apple TV+ and HBO to look the part. Hollywood hasn't had enough faith in America's interest in soccer, especially in the middle of the country, to provide similar funds. But that might be about to change. "A significant part of the economic calculus when investing any money into an entertainment property is how it will perform in the United States. Until recently, the US was assumed to be a market where a soccer project would go to die. I don't know if that's true any more," says Leonard.
The growing popularity of NBC's Premier League coverage, success of Ted Lasso on Apple TV+ and the Netflix Beckham documentary, the arrival of Lionel Messi at Inter Miami and the impending 2026 World Cup in the United States, Canada and Mexico suggest that the foundation has already been set for a studio to take a chance on a big-budget soccer movie.
"My guess is that we will see more soccer movies now because it's such universal language," says Michael Davies, who co-hosts the Men In Blazers soccer podcast. "Just look at the interest you get for a US game against Mexico now, especially when you combine the American and Spanish language coverage."
It also helps that, since the launch of the Premier League, soccer has "become more filmic," adds Davies. "Soccer in Britain in the 1970s and most of the 1980s was played on mud. The pitches are so much better now. The coaching is more sophisticated. Fitness has progressed. Soccer is just much better now than it ever was."
There's a growing number of stories that appear perfect for adaptation, too. Leicester City's astonishing Premier League triumph in 2016 could be told from the perspective of Jamie Vardy's ascent as a non-league player (a biopic of the striker has been discussed in the past) or Claudio Ranieri being fired as Greece manager after just one match before being hired, says Leonard.
There's also Sadio Mané's journey of growing up in poverty in Senegal and being barred from playing soccer by his dad, only to win the Champions League and Premier League with Liverpool. "There are probably several great movies to be made about the transfer of [players] from Africa," says Leonard. "A lot of these young players are playing not just for themselves or their teams, but for their families, towns, and literally countries."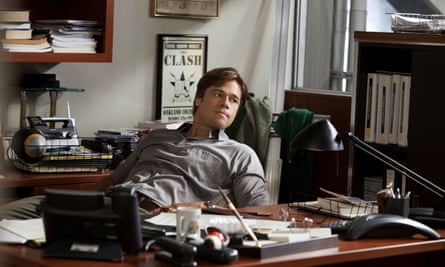 Script writers can look away from the pitch, too. Moneyball, arguably the best sports movie of the last 15 years, focused on Billy Beane, played by Brad Pitt, convincing Oakland A's management to use sabermetrics to build the team, rather than their antiquated methods.
Maybe there's a story that explores the seamier sides of the game by focusing on an agent trying to find up and coming talent and conducting transfers, or the recent scandal involving Spain's Women's World Cup champions. There's even the potential for a Whiplash style movie about the dedication and ruthlessness required to become a professional player.
Whatever story is told, it ultimately needs to be about more than soccer. "Sports films are not really about sport anyways," says Kusz. "They use sport to investigate a human story about race, class, gender or whatever it might be."
The same can be said for soccer itself. Even though the main intention is to watch 22 athletes trying to get the ball into a net, the antics of the players, people in the crowd, and even the owners often end up highlighting societal issues, such as racism, violence, and mental health issues.
"Soccer is a lens through which you can pretty much explain most of society and human nature," says Leonard. "It lends itself incredibly well to movies and television because it's a proxy for a lot of the conflict and drama in our lives. People just haven't really figured out how to tell it yet."
Leonard wants to be at the forefront of finding that answer. "If there's one quote that you include, it's my desperate plea for great writers to try to figure out how to write great scripts about the game, why the game matters, and the communities in which they exist."
Considering the amount of stories that are still unseen and soccer's ever increasing fandom in the US, it appears as though the time is nigh for Hollywood to take its own shot at telling them.