Tucson's love for Korean culture keeps growing.
Within the last few years, Tucson has seen an influx of Korean-inspired businesses open up shop here — including The Korean Rose specializing in Korean-style drinks, Oh My Chicken cooking up crispy, golden Korean-style fried chicken and Kira Kira Collectibles, selling K-pop merchandise and more.
Tucson's newest K-pop shop, KpopNJoy, recently opened at 4813 E. Speedway, between North Swan Road and North Rosemont Boulevard. The shop is open from 11 a.m. to 7 p.m. daily.
KpopNJoy sells everything from K-pop albums to Korean snacks and even some Korean beauty products.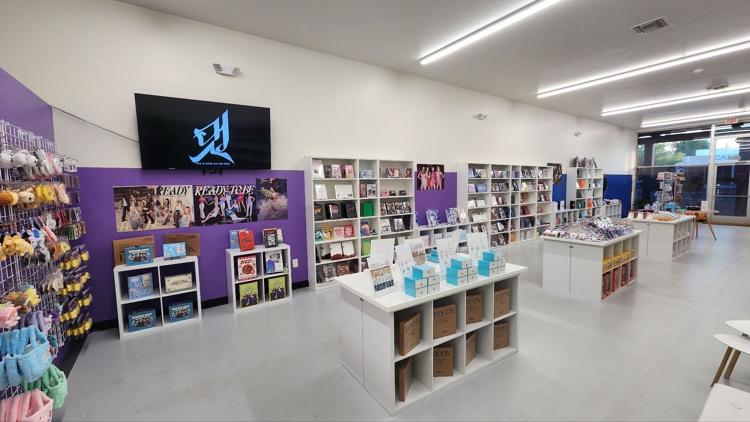 The shop's official grand opening takes place from noon to 7 p.m. on Saturday, Nov. 11. The celebration will feature free goodie bags for the first 40 customers, a raffle for BTS prizes and a performance from the University of Arizona's K-pop dance team UnderSkore at 1 p.m.
"We want to make people happy when you come into our store. We want you to feel happy when you leave and get a little taste of something you can't find anywhere else in Tucson," said Laura Kim, co-owner of the shop.
KpopNJoy is owned by Kim, who is a second-generation Korean, and her husband DaeSung Jang, who is originally from South Korea. The couple lived in Los Angeles for the last 10 years until Jang moved to Tucson a couple of months ago. Kim still lives in LA due to work but travels down to Tucson every weekend to bring fresh merchandise for the shop.
Unlike major cities like LA and Phoenix where the market for K-pop shops can feel oversaturated at times, the couple felt like Tucson was the perfect place for KpopNJoy to call home for a couple of reasons — its multiculturalism, kind community and college town atmosphere, according to Kim.
"There's a lot of different cultures and inspiration there and I think Tucson is very open to that, which is amazing," she said.
Another factor in deciding to open up shop in Tucson was the couple's childhoods.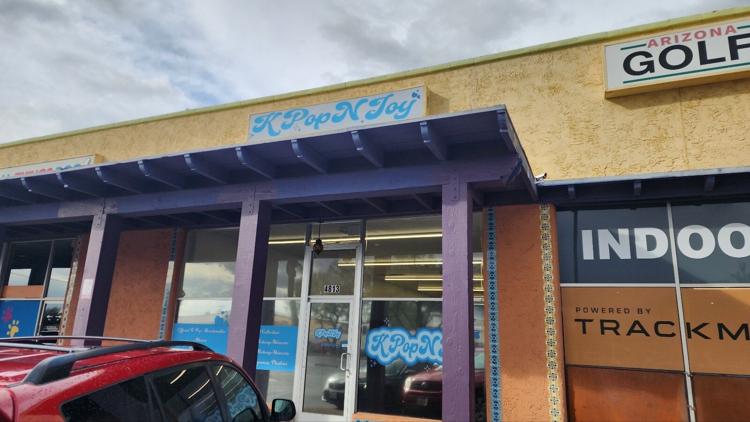 While growing up in small towns, both Kim and Jang had to travel to larger cities to get their K-pop fix. They grew up wishing they had a similar shop in their smaller cities. 
So, when looking for a place to open KpopNJoy, they opted for a "smaller" city that would provide a community with the chance to appreciate Korean culture and music without having to travel elsewhere.
"Most of our customers tell me when they come in 'We had to go to Phoenix for that,'" Kim said. "And even though Phoenix is really close, it's two hours away, which isn't bad, but sometimes you just want to go and pick up something right now. You don't want to wait until the weekend or you don't want to wait until your mom has to take you and the really nice thing about Tucson is it takes around 30 minutes to get from one end of the city to the other."
'We just want you to be happy'
Now that K-pop and Korean culture has become an international phenomenon, Kim says she feels honored to see just how much love and appreciation it's recently received.
"I'm so thankful for K-pop," she said. "I never thought I'd see K-pop or anything Korean get to this global scale in my lifetime."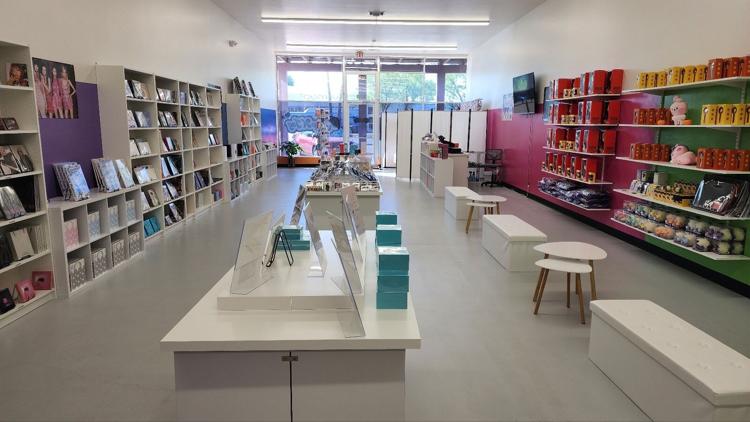 Since its soft opening in early October, KpopNJoy has received positive responses from the community — something they hope to continue receiving with their "happy customer" motto.
Whether store visitors purchase items or not, Kim's goal is for visitors to have a fun in-store experience where they can listen to their favorite tunes, dance, laugh, be themselves and create a happy community.
"I want it to be bright and fun and I want people to experience something they don't (typically) experience," Kim said. "We always have a list of the things that are non-negotiables and then things that are negotiable. So, our motto and what we want people to feel is non-negotiable."
After seeing many K-pop shops come and go during their time in LA, Kim and Jang are focused on finding ways to improve and continue bringing positive experiences to Tucson.
"We want you to be open to try new things because if you're open to trying new things, you might find something you like or even love later on," Kim said. "And we just want you to be happy because it's more about the way you feel when you go somewhere and that has a bigger impact on you. So, I hope people enjoy our store and we hope to become part of Tucson and lay our roots there."
For more information about KpopNJoy, check out their Instagram page.